As I reflect on my years as an educator, I am convinced that a successful career in education is built when an educator embraces the wisdom in the Theodore Roosevelt quote "People do not care how much you know until they know how much you care."  More than that, students are not motivated to learn from someone who doesn't care about them, their concerns, and the issues that trouble them.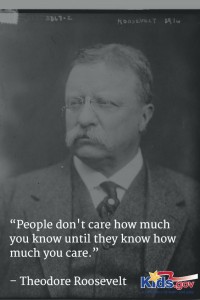 As a science teacher, I valued and enjoyed being a student of the heritage and diversity of the Greater New Bedford community.  My students and their families were my teachers as they guided me through their diverse cultures and neighborhoods.  They enriched my understanding by explaining what it is to live in their shoes.  They inspired me with the many experiences they shared and they developed confidence that I asked questions because I cared about them.  I used the information they shared with me to enrich the lives of all my students and to build a classroom of acceptance, safe from prejudice and bullying.  Through these exchanges, we built confident relationships.  Relationships based on caring soon lead to trust and respect.  Science is a difficult topic to understand, but my students thrived in my classroom of trust and respect, caring and confidence.  They met and surpassed the challenges of the curriculum because I cared about them and taught them to care about each other.
As an assistant principal and academic principal, I found the opportunity to show caring and build respect to be even more important, but increasingly more difficult.  I had to be creative and relentless in my efforts to build relationships with my colleagues as well as with my students.  My favorite part of the day has been early in the morning before school and during lunch, when I can check in with students and colleagues in a relaxed and social environment.  I love hearing their updates and encouraging them to persevere and to never give up.  Many students approach me to discuss concerns.  Some ask to speak to me privately because they know I will listen and help them work through the situation troubling them.  Often, students I haven't met yet will reference another student that I have helped when they introduce themselves to me.  I appreciate their confidence as they give me an opportunity to care for them.  Colleagues often wait until this time to share ideas for improvements.  Though they could easily email or call me, they need to see that I care about their concerns.  They trust me to listen and respect the information they are sharing as we work together to care for our students.  In this way, both students and colleagues bless me and entrust me with their hope.
The essential purpose of education is to build a future.  I believe it was Confucius who said "Education breeds confidence. Confidence breeds hope.  Hope breeds peace."  I have learned that the most important question in a job interview is "Why do you want to work here?"  The answer must be I love working with kids because I care about helping them to build a future.